• Is porn the only way you can get in the mood?
• Do your orgasms feel like tiny little sneezes?
• Are you tired of the same old masturbation routine?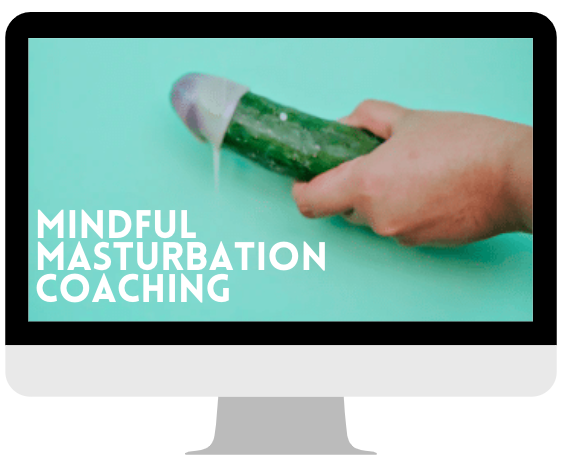 If you are tired of using porn and fantasy to achieve orgasm… or if you are not satisfied after masturbation and looking for something more fulfilling long-term, keep reading…

From jerking off to Mindful Masturbation
Activate your pleasure with tools you already possess: breath, sound, and movement. With Mindful Masturbation, every moment can be an orgasmic experience when you take your time to masturbate without porn or fantasy.
It is possible to experience pleasure in your body in ways you never thought were possible, without porn or fantasy, and experience delicious orgasmic sensations that words cannot describe.
It is possible to achieve longer-lasting orgasms in as little as 1 session.

Are you ready to experience better orgasms?
Benefits of Mindful Masturbation
✔️ Learn to cum home to yourself (pun intended!)
✔️ Activate and maintain your own arousal
✔️ Experience next-level pleasure
✔️ Stronger and longer orgasms
Sessions are online, from the comfort of your own home, available on Zoom (a Skype alternative)
Invest in your orgasms! There is no better time than NOW!
Frequently Asked Questions
Q. What does a session with you look like?
A. Like a sports coach, you will be instructed on what to do, and how to do it, so you can achieve an amazing orgasm without porn or visual imagery.
Q. Are you nude during the session?
A. No
Q. Can you take your clothes off during the session?
A. No. Please do not ask! The point of these sessions is for you to learn to activate and generate your own arousal, and not rely on external stimulation
Q. Can I ejaculate during the session?
A. Absolutely! You will learn how to generate your own arousal, and reach higher states of pleasure than what you are used to.

Q. How do I book?
A. In my booking calendar
Q. How do I pay?
A. Payment to be made with debit/credit card at the time of the booking.
If you have any additional questions, get in touch!
OR
Get access to my Online Mindful M@sturbation Masterclass. Learn more here